What is Kinesio Tape?
Kinesio tape is an innovative solution for pain and soft tissue injuries, both acute and chronic. Kinesio tape also helps to relieve pain, discomfort and soreness in the joints and muscles while facilitating a speedy recovery. Many athletes use Kinesio tape to enhance their competitive performance, especially if suffering from training injuries.  It is an effective method for treating neck or low back pain, plantar fasciitis, edema and swelling, bruising, knee pain and iliotibial band syndrome.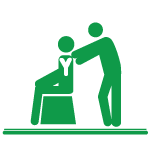 Who uses it?
Kinesio Tape is the a great option not only for athletes or people who are active, it is also good for people for have joint pain.  Kinesio Tape supports and protects damaged ligaments, sore tendons and muscles to prevent further injury. Kinesiology tape is used as a treatment by many healthcare professionals, from chiropractors to athletic trainers, orthopedics specialists, and physical therapists alike.
Why is it used?
Kinesio Tape is durable and strong, but more importantly it is light, stretchable and elastic. Unlike other technical performance gear that is commonly used, it isn't bulky and doesn't interfere with ones range of motion, which is an important aspect for athletes to consider. Because of the way it is designed, it allows for sweat and moisture to be released, instead of absorbed, so it doesn't have to be reapplied after you perform. When it does have to come off, don't worry! It is engineered to be pain free! It offers superior support and easy release.
How does it work?
Kinesio Tape is applied along areas of the body that are causing pain to provide a subtle but strong external support that helps to any additional injury and to speed recovery. Depending on what pain you are experiencing and where, the application works differently for different injuries by supporting or restricting soft tissue and its movement.  Patients have reported that initially they feel the tape working, but after a few hours they forget that they are wearing it. For patients who have sprained their ankles and who have bruises, the application of Kinesio Tape reduces swelling and speeds the fading of bruises.
Kinesio Tape and its application techniques have been used by healthcare professionals for over thirty years with great results.
What are the benefits?
Reduced Inflammation

Increased Circulation

Decreased Muscle Cramping & Spasming

Reduced Lactic Acid Build Up

Protects & Restores Injured Tissue

Fades Bruising