What is Therapeutic Massage Therapy?
Therapeutic massage is one of the oldest forms of medical therapy. It blends together ancient medical traditions and beliefs from Chinese, Egyptian, Greek and Roman cultures. The techniques that are most commonly used now take the teachings from the past and fuse them with all of the medical knowledge we have available to us today. It is a blending of two cultures. The ancient East meets the modern West.
Therapeutic Message is used all over the world to treat a wide variety of health conditions in people of all ages. It is used in hospitals, intensive care units and health spas. It is an effective treatment for osteoarthritis, back pain, nerve damage, fibromyalgia, stroke, and some forms of cancer.  It is used to treat sports and accident-related injuries and to prevent premature birthing complications. Because there are so many different types of massage available, it is really the perfect treatment for every body.
At Gentle Health and Wellness Center, we will take the time to get to know our patients. We will consider your specific health needs or injuries to determine what techniques will be most effective. The ultimate goal of therapeutic massage is to keep your body and mind healthy and balanced.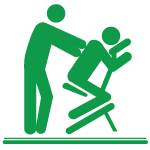 What kind of Therapeutic Massage Techniques to we offer?
Acupressure/Shiatsu

Aromatherapy

Corporate Chair Massage

Deep Tissue Therapeutic Massage

Hot Stone Massage

Medical Massage

Prenatal Massage

Reflexology

Relaxation Massage

Sports Massage

Swedish Massage
What are the health benefits of Therapeutic Massage Therapy?
Stress relief

Muscle pain relief

Relaxes the body & mind

Improves blood circulation

Relieves headaches

Helps the body rehabilitate & heal after injury

Boosts immune system

Lower blood pressure

Restores body to a natural state of balance